Metallurgical & Materials Analysis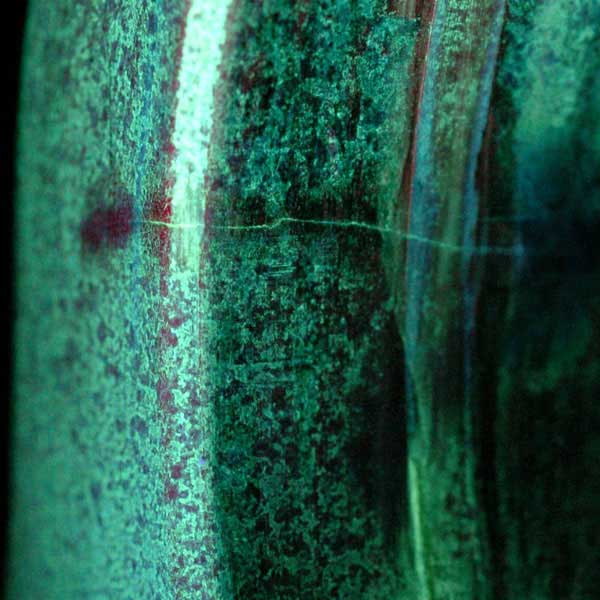 Analyses & Evaluations
DTB can provide a wide range of analyses using our in-house facilities and expertise, as well as our strategic partnerships. Discuss your needs with us! Together, we can develop innovative and highly practical solutions.
DTB provides analyses and evaluations on a wide range of products, such as aircraft landing gear, transparent armor, transit system airbags, rail power/signal transmission cables, bearings, compressors, oxygen breathing apparatus, COPVs, bus chassis, bomb racks, missile launchers, fasteners, rail car couplers, crane pendants, fatigue analysis, shot peening, O-rings, aircraft actuators, welds and brazes, heat exchangers, air filters, gears, rotary wing pylon mounts, automotive exhausts, explosively-bonded joints, gun barrels, gas masks, and more.
AES with full suite of calibration standards
SEM/EDS
GC/QMS
Optical metallographs
Stereomicroscopes
High resolution digital imaging
Full range of metallographic sample preparation
Etching hoods
Hardness (bulk, micro, superficial, scleroscoptic, ultrasonic)
Indexed borescopes with UV
Eddy current
Battery tester
Aging ovens
Viscosimetry
Non-destructive plating/coating thickness
Carbon coater
Gold/Palladium sputter coater
Sectioning and mounting
Low damage sectioning
Extensive database and library of specifications
1.
Magnetic particle (MPI)
ASTM E 1444
2.
Liquid penetrant (LPI)
ASTM E 1417
3.
Hardness measurements
a. Standard Rockwell
b. Superficial Rockwell
c. Micro (Vickers, Knoop)
d. Durometer Hardness
ASTM E 18
ASTM E 18
ASTM E 384
ASTM D 2240
4.
Metallographic preparation
ASTM STP 557
ASTM STP 504
ASTM STP 839
ASTM E 3
DTB procedure or customer specified
5.
Etching
a. Macro-etching
b. Micro-etching
ASTM E 340
ASTM E 381
ASTM E 407
DTB procedure or customer specified
6.
Temper etch (Nital etch) surface inspection
MIL-STD-867C
7.
Electrical conductivity of Al-alloys
AMS 2658
8.
Micro-structural evaluation (inverted optical – BF and P illumination, and SEM-SEI and BEI contrast)
a. General microstructure
b. Retained austenite
c. Decarburization (visual)
d. Grain size
e. Inclusions
f. Uniformity
g. Defects (voids, cracks, etc.)
h. Segregation
The following specifications include all or part of the evaluations listed:
ASTM E 3
ASTM E 7
ASTM E 112
ASTM E 930
ASTM E 1181
ASTM E 1077
ASTM E 1382
ASTM E 1951
ASTM E 45
SAE J422
DTB procedure or customer specified
9.
Grain flow and macro-characterization (forging or casting quality)
DTB procedure or customer specified
10.
Case hardening analysis (micro-hardness profile – sample preparation not included)
SAE J423
DTB procedure or customer specified
11.
Decarburization (micro-hardness profile – see #4 for sample preparation)
AMS 2759
ASTM E 1077
ASTM F 2328
SAE J419
DTB procedure or customer specified
12.
Inter-granular attack (chemical/visual) AMS
AMS 2759
ASTM A 262
ASTM A 763
ASTM G 28
ASTM G 110
ASTM STP 656
DTB procedure or customer specified
13.
Plating/Coating thickness – non-destructive
AMS 2759
ASTM A 262
ASTM A 763
ASTM G 28
ASTM G 110
ASTM STP 656
DTB procedure or customer specified
14.
Plating/Coating composition and thickness
ASTM B 748
ASTM E 1508
DTB procedure
15.
Passivation check
AMS 2700
ASTM A 967
16.
Bulk composition – quantitative (arc emission)
Machine calibration with standards
Aluminum alloys – ASTM E 1251
Titanium alloys – ASTM E 2994
Nickel alloys – ASTM E 3047
Magnesium alloys – ASTM B 954
Stainless steel – ASTM E 1086
Steel – ASTM E 415
Cast iron – ASTM E 1999
Copper alloys
Carbon/Alloy steel
17.
Bulk composition – semi-quantitative (EDS) and qualitative (EDS)
ASTM E 1508
DTB procedure with standards
18.
Corrosion identification (SEM + EDS)
Case-based
19.
Macro-imaging with photos (Stereomicroscopic)
Case-based
20.
Macro-fractography with photos
Case-based
21.
Micro-fractography with photos (SEM + EDS)
Case-based
22.
Root cause failure investigation
DTB procedure or case-based
Aecom
Aerial Machine
Air Industries
Alstom
Ametek
AMT
Ansaldo
Arnold Defense
Aurora
BE Aerospace
BNL
CAF
Calsonic
Carlton
CCAD
Cincinnati Thermal Spray
Colt
Columbia Helicopters
Con Edison
CPI-Aero
DLA
DRS
DSCC
DSCP
DSCR
EDO (Harris-Exelis)
Exelis
GAF
Gillig
Goodrich Lighting Systems
Gradus
Grosser Consulting
GSA
Harris
Heico
Heil
Heineken
Helicopter Tech
Honda
Honeywell
HTI
Keyspan
K-Rain
Laundrylux
Lipman Nurit
LIRR
LK Comstock
LTK
Marvin Engineering
Mitsubishi
Montaplast
Mossberg
Mountain Plumbing
MTA
NATEC
NAVAIR
NAVSUP - Mechanicsburg
NAVSUP - Philadelphia
Neoplan
New York Air Brake
NGC
NYCT
Parsons Brinckerhoff
Questek Innovations LLC
Radian
Raytheon
Reavis & Cianciolo
Remington
SAIC
SAP
Schott Glass
Sierra Nevada
SMCC
Smith & Wesson
Spirit Aerosystems
Swiss Tech
TCOM
Teknoseal
Thompson Linear
Trans Aero
Triumph
Turbodynamics
US Army AMCOM
US Navy - Cherry Point
US Navy - Lakehurst
USAF - Eglin AFB
USAF - Hill AFB
USAF - Warner Robins AFB
USCG
USPS
VJT
Walker Die Casting
WSP Inc.