Electronics Markets We Serve:
Medical Device Testing Services
The ability for your products to perform reliably is the lifeblood of your company. Your products must perform exactly as the customer expects, every time. DTB's medical device testing services can help. We can provide support from conceptualization through prototype – and into production.
Our engineering services group will assist you with "designing in" reliability and robustness by tailoring a unique test protocol to evaluate potential failure modes. For electronic equipment, we can validate EMI/EMC issues at the prototype stage before large investments are made on your part. We can also assist with complete design verification testing after prior R&D gates have been satisfied.
Give us a call today to learn more!
Testing Services
Radiated RF electromagnetic energy
Conducted RF electromagnetic energy
Magnetic fields
Electrical fast transients and bursts
Surges
Voltage dips
Short interruptions
Power supply input voltage variations
Vibration
Temperature
Bump
Drop testing
Do you have a portable equipment development program? We specialize in consulting on "ruggedized" designs. We can pass your product through a virtual gauntlet of real-world environmental exposure to expose any potential problems before you go to market. Our team can test nearly any mechanical or electro-mechanical medical device to meet your requirements and industry standards.
DTB also services products that are large scale and primarily designed to be in a fixed location. Your systems still need to be evaluated for their intended environment. We can help with two different approaches:
First, our extensive facility is designed to accommodate large scale projects — we own several environmental chambers of varying sizes, and we can consult on the validation of subsystem level testing.
Second, let us come to you. We routinely visit customer locations with portable test equipment for EMI/EMC evaluations, instrumentation work, and even on-site special purpose environmental testing.
EU MDT 2017/745
IEC 60601-1-2 – 2017 Safety/EMI/EMC
FDA Design Guidance for Industry and FDA Staff, Considerations for Devices Intended for Home Use – updated August 8, 2016 to correct the transition date for ANSI/AAMI/IEC 60601-1-2
RED 2014/53/EU
47 CFR, Part 15
FCC, Part 18
ANSI C63.18 (4th ed.)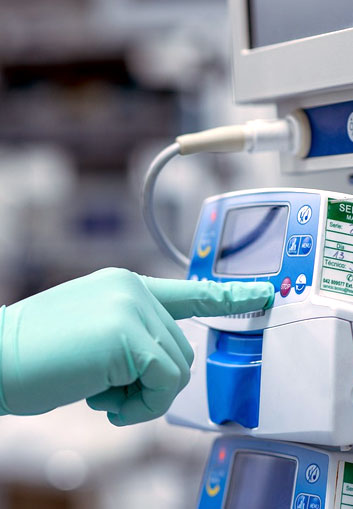 Medical Device Documentation Services
Medical equipment repair personnel, also known as biomedical equipment technicians, work on medical equipment, such as defibrillators, heart monitors, medical imaging equipment (X-rays, CAT scanners, etc.), voice-controlled operating tables, and a multitude of other critical equipment.
Naturally, all equipment in health care is held to the highest standards of documentation. Equipment information systems must be professionally designed and deployed, providing operating and maintenance procedures on-demand. To critical buyers, these systems are often a primary consideration in the initial selection and purchase of the equipment. DTB can provide the comprehensive suite of services that you need in order to satisfy the requirements of this demanding and evolving marketplace.