DTB ENGINEERING & ANALYSIS SERVICES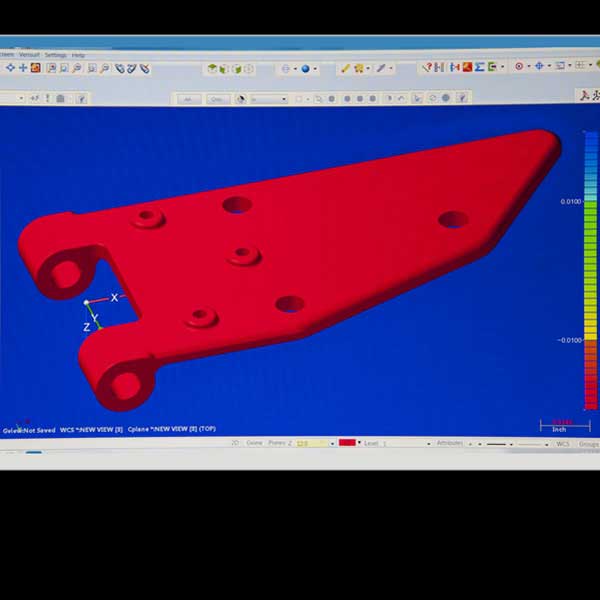 Redesign Techniques
DTB has the experience, skills, and equipment necessary to measure parts and/or assemblies and then reconstruct them as 3D models, and into 2D drawings, for fabrication. Our design engineers play a significant role in the reverse engineering process for military aircraft and helicopter structural, mechanical, and outside skin panel parts, such as aircraft fairings.
DTB routinely calculates geometric dimensions and tolerances (GD&T) and compares complex geometric surfaces and feature positions to nominal data to verify the object's conformance to specification. We can compare part measurements of an object to the CAD model in order to determine real-time deviations from the design – saving time and expense for our customers.
We also perform 3D reverse engineering by digitizing a part or object to create a fully surfaced 3D model prototype.
3D Laser Scanning Equipment:
Measurement range: 9 ft. (2.7 m)
Volumetric accuracy: ±0.041 mm (±0.0016 in.)
Single point repeatability: 0.029 mm (0.0011 in.)
Laser Line Probe:
Accuracy: ±0.035 mm (±0.0014 in.)
Repeatability: 35 μm, 2σ (0.0014 in.)
Effective scan width (near field): 53 mm (2.09 in.)
Points per line: 752 points/line
Scan rate: 60 frames/sec.; 60 frames/sec. x 752 points/line = 45,120 points/sec.
Vendor Qualification:
DTB can help you down-select from a group of potential vendors by conducting quality assurance site surveys with particular attention to calibration, inspection, asset tracking, and quality control. Preliminary manufacturing process sheets are reviewed, approved, and later compared to the process sheets used to manufacture. First article inspections, proof load, and fatigue testing and evaluations are typically part of DTB's vendor qualification process.