Military Markets We Serve: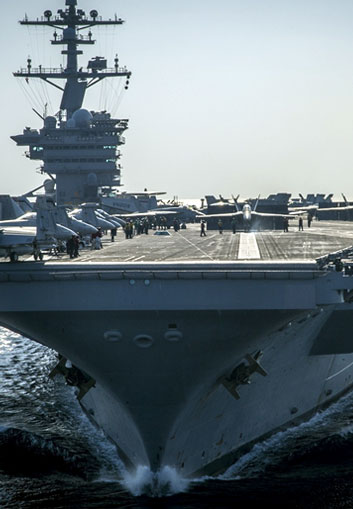 DTB and the US Navy
DTB has been providing services to the US Navy for over 70 years. In our testing facilities, we provide both straightforward MIL-STD testing, as well as testing to customized specifications. In some cases, these test programs can involve intricate design efforts to meet any customer requirement.
Our expert staff is qualified to perform engineering and re-engineering work, as well as environmental, dynamics, EMI/EMC, armament, ballistics, structural/fatigue, failure analysis, and conformance inspection projects – both as a prime contractor and in support of other primes.
In addition, we can build capable, reliable, and accurate test stands. The quality of each part is critical to the success of our Navy's mission. Our vast range of test systems and test stands include automated hydraulic pump and motor test stands, general purpose component test stands, automated calibration test systems, fuel component test stands, and gear box test stands – to name a few. Give us a call today to learn more!
Prototyping for the US Navy
DTB has the facilities, personnel, and partnerships in place to support prototype development for the Navy. Many times, prototype development crosses over and is a subcomponent of a larger program in the realm of value engineering, reverse engineering, product enhancement, cost reduction, life extension, diminishing aircraft parts, and so forth. DTB has the expertise and suppliers capable of designing and fabricating precision parts for multiple applications within the land base, shipboard, and aerospace communities. Examples include the fabrication of EA-6B tail pipes and E-2C hydraulic actuators, as well as ejection seats and aircraft wing dollies for land base equipment.