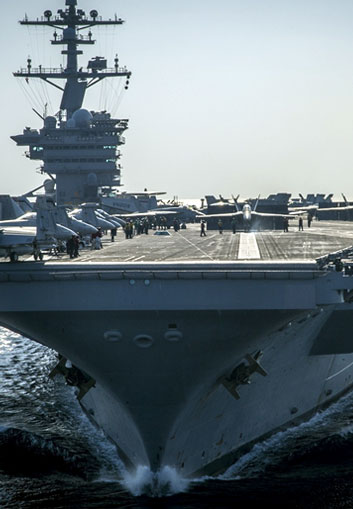 Engineering & Testing
DTB has been providing services to the US Navy for over 70 years. In our testing facilities, we provide both straightforward MIL-STD testing, as well as testing to customized specifications. In some cases, these test programs can involve intricate design efforts to meet any customer requirement.
Our expert staff is qualified to perform engineering and re-engineering work, as well as environmental, dynamics, EMI/EMC, armament, ballistics, structural/fatigue, failure analysis, and conformance inspection projects – both as a prime contractor and in support of other primes.
In addition, we can build capable, reliable, and accurate test stands. The quality of each part is critical to the success of our Navy's mission. Our vast range of test systems and test stands includes automated hydraulic pump and motor test stands, general-purpose component test stands, automated calibration test systems, fuel component test stands, and gearbox test stands – to name a few.
Call DTB Testing Services at (800) 837-8456 to learn more!
DTB has the facilities, personnel, and partnerships in place to support prototype development for the Navy. Many times, prototype development crosses over and is a subcomponent of a larger program in the realm of value engineering, reverse engineering, product enhancement, cost reduction, life extension, diminishing aircraft parts, and so forth. DTB has the expertise and suppliers capable of designing and fabricating precision parts for multiple applications within the land base, shipboard, and aerospace communities. Examples include the fabrication of EA-6B tail pipes and E-2C hydraulic actuators, as well as ejection seats and aircraft wing dollies for land base equipment.
Technical Services
DTB specializes in technical publications and logistics services for military aviation requirements. We have provided technical publication services directly to DoD agencies and commands, as well as prime contractors and subcontractors. Our roots are based on a contract that started in 1966 with the US Navy for technical manual development, which lasted for 16 years. Our growth over the years has allowed us to continue supporting all four service branches and various international organizations, including the North Atlantic Treaty Organization (NATO).
We develop technical manuals consisting of illustrated parts catalogs, flight, overhaul, and maintenance manuals, wiring diagrams, flight checklists, all forms of completion manuals, and the development of supplemental type certificates (STCs) and instructions for continued airworthiness (ICAs).
US Navy (NAVAIR, NAVSEA, SPAWAR)
A-7E, AF 27T-10, BRU-32, C-20G, CH-53, E-2C, F/A-18 A/B/C/D, HH-60H, LPD-17, P-3C, Sea Wolf, SH-2G
MIL-STD-3001, NAVSEA C2
Scrubbers, MH-60R/S, VH Platforms
Our technical writers are experts in all current military standards and specifications for technical documentation development.
ATA 100
ATA iSpec 2200
S1000D (all Issues)
MIL-STD-40051-2 and AMCOM variants
MIL-STD-38784
MIL-STD-2361C
MIL-STD-3001
Various other MIL-STDs, ANSI, SCORM, etc.
Call DTB Technical Services at (866) 300-1701 to learn more!
DTB provides value-added logistics support through careful management of purchase requirements including research of alternatives, vendor qualification verification, purchasing, receipt inspection, and delivery to final user. In addition, we have a Government Approved Purchasing system.
Mission Systems
Dayton T. Brown, Inc. (DTB) Mission Systems Division offers complete hardware, logistical, and programmatic solutions for ISR and aircraft modifications.
We deliver ingenuity and quality in design, prototype fabrication, assembly, test, integration, technical publications, and complete life cycle support. Aircraft upgrades are supported through innovative procurement solutions and integration with aircraft and ground systems.
DTB is a recognized leader in engineering, testing, technical publications, and logistical support. We have extensive experience with rotary, fixed-wing, unmanned aircraft, and military ground systems.
We're strategically located in Pax River, Maryland, possess engineering and testing expertise, and over 30,000 sq ft of manufacturing and integration facilities.
DTB's Unique Capabilities – Aircraft Modifications
With our wide breadth of experience and capabilities, DTB can provide solutions for low-rate production and installation of aircraft upgrades and modifications. DTB has extensive experience in the development, testing, and integration of avionic upgrades, antenna development, and other system modifications.
Examples of Past Projects
F-5 Digital Air Data Computer (DADC) development and installation
Wide Band SATCOM Antenna (WBSC2) development
KC-130J ADS-B Lighting Control Box development, assembly, and test
MQ-25A Operational Shore Ground Control Station design and development
Logistics Material Support
Call DTB Mission Systems at (240) 490-2499 to learn more!