DTB ENVIRONMENTAL TESTING SERVICES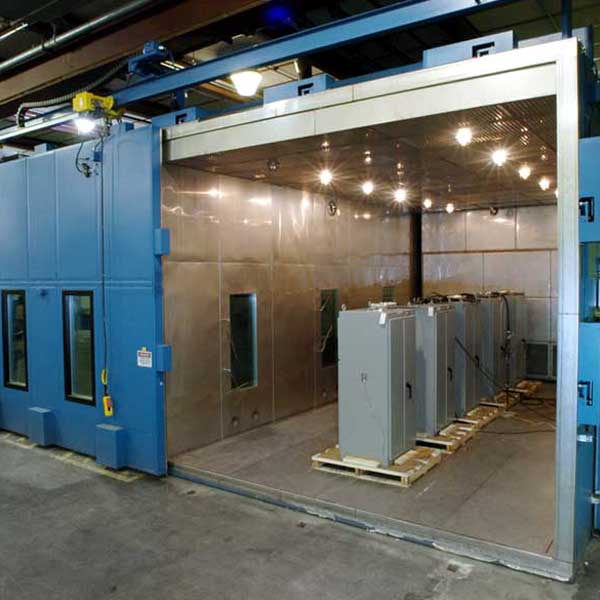 Extreme Temperature Testing
MIL-STD-810, Method 501.7 (High Temperature Testing)
MIL-STD-810, Method 502.7 (Low Temperature Testing)
MIL-STD-810, Method 503.7 (Temperature Shock Testing)
The purpose of Temperature Testing is to determine an item's ability to operate in extreme temperature conditions. Testing can occur at constant temperature exposure or with cyclic temperature exposure.
High and Low Temperature Testing
Dayton T. Brown, Inc. has over 30 High and Low Temperature Testing chambers with the following capabilities:
Varying sizes from 2.1 ft.3 to 4,500 ft.3 with relative humidity ranges from 2% to 98%
A 25 ft. drive-in chamber (approximately 25 ft. x 15 ft. x 12 ft.), which is coupled with over 240 HP of refrigeration, 240,000 KVA of heat, and a 42 KVA steam generator for humidity test requirements
Several standard facilities, which simulate temperatures from -80°F to +325°F
An enhanced facility, which simulates temperatures as low as -120°F
Temperature Shock Testing
We also have dual separate chambers available for Temperature Shock Testing, depending on the size of the test items.
DTB meets the following requirements for Temperature Testing:
High Temperature – MIL-STD-810, Method 501.7
Low Temperature – MIL-STD-810, Method 502.7
Temperature Shock – MIL-STD-810, Method 503.7