DTB ENGINEERING & ANALYSIS SERVICES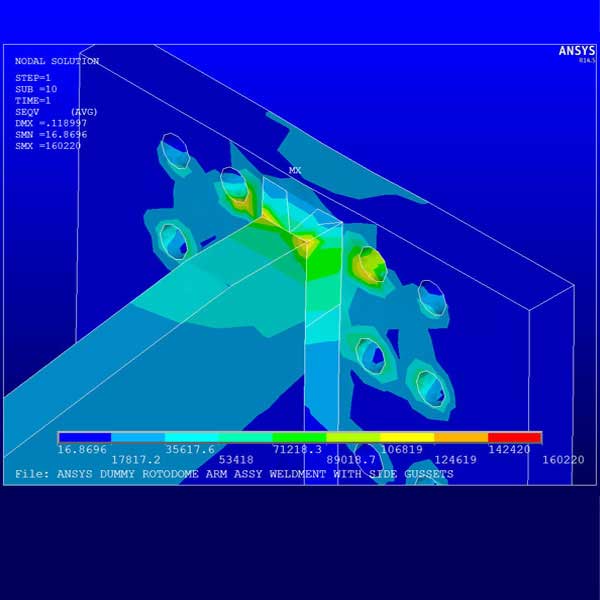 Stress Analysis Services
DTB can design, verify, or diagnose structural issues and design a repair for your product. We have performed successful stress analyses on aerospace components and aircraft modifications by using both finite element stress analysis and classical hand analysis.
We have also performed stress analyses in order to predict the fatigue life and damage tolerance of existing and redesigned arresting gear truss assemblies for carrier aircraft. The purpose of this stress analysis program was to extend the life of the existing arresting gear through analyzing and testing the gear to realistic loads. We developed a realistic loading spectrum based on flight test data for both the analysis and the test. By using strain life fatigue prediction methods, we predicted the fatigue life and damage tolerance of the assembly.
Our experts have also conducted structural analyses of electrical equipment for seismic requirements using the latest building code seismic requirements. We can help you with static, strength, fatigue life, and damage tolerance calculations. Our team of stress analysts can prepare strength certification reports for your product.
Finite Element Stress Analysis and Classical Hand Analysis Capabilities:
A free body diagram of the item showing all applied loads and reactions
Calculation of the magnitude of the reactions based on static equilibrium or the use of redundant structural analysis methods, such as finite element analysis (FEA)
Calculation of the internal stresses using section cuts through the item or the use of FEA
Calculation of the allowable stresses based on all possible failure modes, such as material yield stress, material ultimate stress, material fatigue allowable (based on the load spectrum), and the buckling or crippling stress allowable (for compressive loads)