DTB STRUCTURAL TESTING SERVICES
Static & Fatigue Testing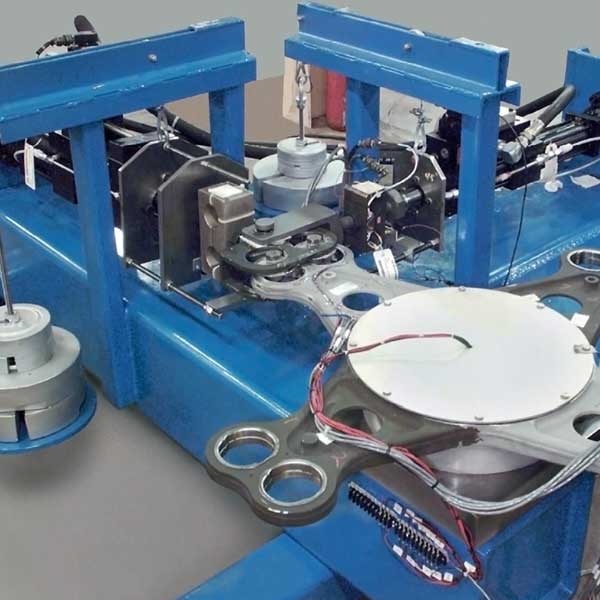 Structural Testing & Analysis
DTB can assist you in any phase of your loads testing program to determine the actual real-world loading conditions on your system. Using strain gages, load calibrations, data recording equipment, and other instrumentation, the loading history can be recorded and analyzed to satisfy any data requirements that you may have. This information can be used in analytical life predictions and for discrete tests.
If further testing is required, DTB can work with your team to develop test methods for static load tests and/or fatigue load tests.
Static Load Test
Static load tests are conducted in order to determine a test article's ability to handle loads. At DTB, this type of testing generally utilizes large test fixtures that are designed to handle the strength and rigidity requirements that occur when applying loads.
The test article, which can be anything from an aircraft wing to a full plane, is placed in the fixture and outfitted with data acquisition equipment. Load cases are then developed to simulate critical conditions. During the static load test, data is continuously recorded with data "snapshots," which are taken at prescribed loading increments. Dimensional inspections can be conducted to quantify any permanent deflections by comparing pre-static loading to post-static loading.
Static load tests can be performed to loads that are a fraction of the designed limit load, but may also be tested to the ultimate limit, which is typically much higher than any load that the article would encounter in the real world. If required, we can also conduct testing to failure to measure the structural breaking point of the article under test.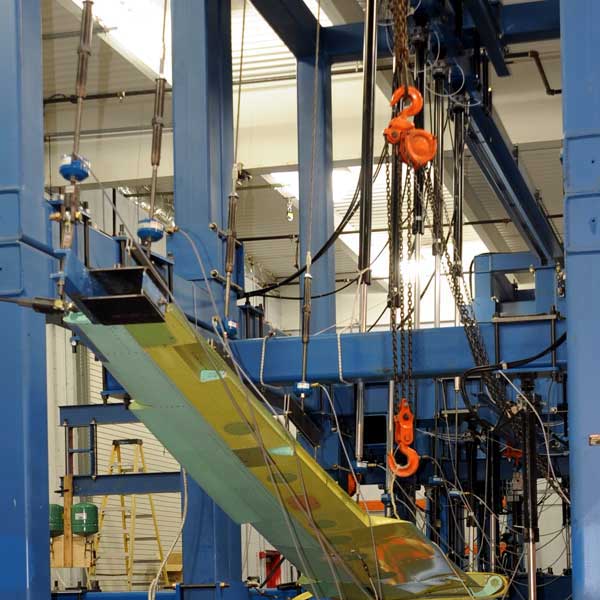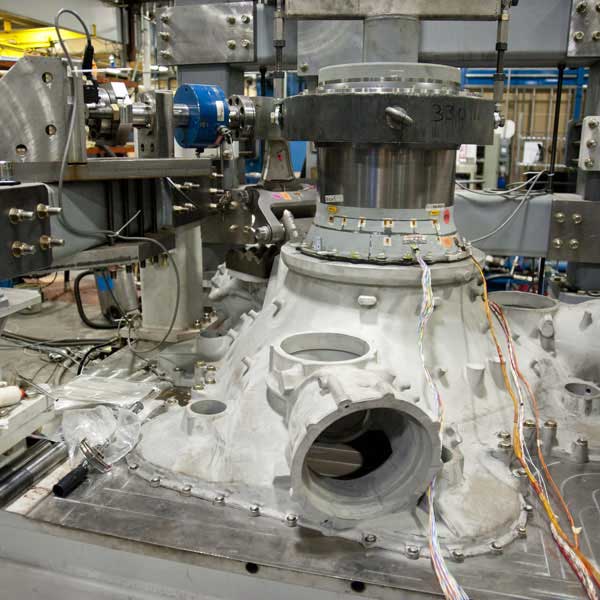 Fatigue Load Test
If fatigue load testing is required using statistical methods, a loading spectrum can be determined that consolidates the recorded data into the full range of conditions. If you have simulated or recorded field data, we can work with you to "truncate" the spectrum and weed out the conditions that do not affect the component's fatigue life.
DTB's well-equipped test laboratory is capable of performing coupon, component, and full-scale fatigue testing. Over 100 major test fixtures are available to test specific aircraft components.
We also have the engineering resources and design talent available to design and fabricate specialized test fixtures to test any type of component that requires fatigue testing.
Our centralized hydraulic power unit supplies 800 GPM of hydraulic fluid at 3,000 PSI pressure.
DTB performs constant amplitude or spectrum fatigue loading of components up to 400 KIP, at frequencies up to 25 Hz (depending on load and displacement requirements). We are able to apply linear or angular displacements utilizing linear and rotary hydraulic actuators.
We can also perform comparison fatigue testing of OEM and alternate source parts to demonstrate the equivalency of fatigue life.
Load Application
DTB utilizes servo-controlled linear or rotary hydraulic actuators to apply the test loads or displacements during all static and fatigue testing. Load control for fatigue applications is typically accomplished using cyber computer-controlled servo feedback control systems, or one of our new MTS 140-Channel FlexTest Structural Test Controllers.
The MTS FlexTest Controller is a reconfigurable load control system that can conduct both static and fatigue test programs using the latest in structural test control software and algorithms. The Controller employs industry-standard hardware for easy upgrades and runs on the Windows operating system. It has an intuitive graphical user interface, making it easy to set-up and run.
The multi-tasking operating system allows the user to define new tests, analyze past results, and monitor active tests that are currently in process – all at the same time. Coupled with AeroPro Control and data acquisition software, the system allows the user to access synchronized control and data acquisition information in real-time from a single source.
The servo valves utilized on the hydraulic actuators can be load-controlled or displacement-controlled, depending on the feedback used. In all cases, the computer software controlling the test loads or displacements is programmed to terminate the test if the parameters shift in excess of 5% of the baseline settings.
These systems, developed by DTB, have proven successful throughout years of performance on both static and fatigue tests completed for military and commercial customers. The cyber servo-controllers are driven by durable Hewlett-Packard UNIX-based computers, which allow for flexibility in programming wave shapes, load spectrums, and static load profiles. These systems are currently capable of 16 control channels and are easily expandable, as required.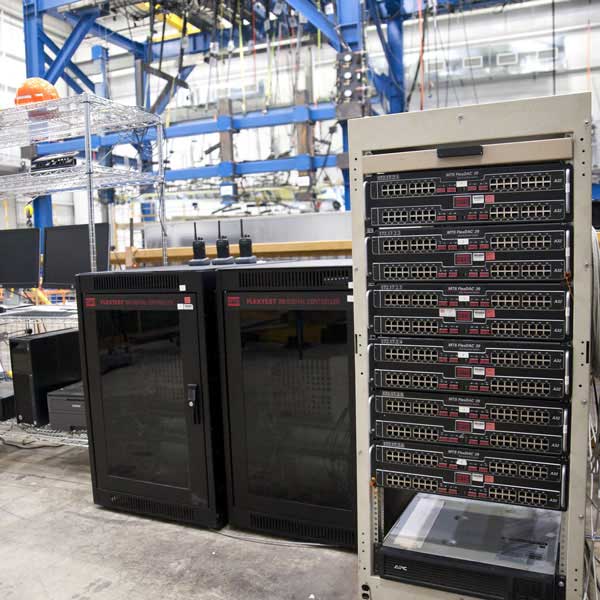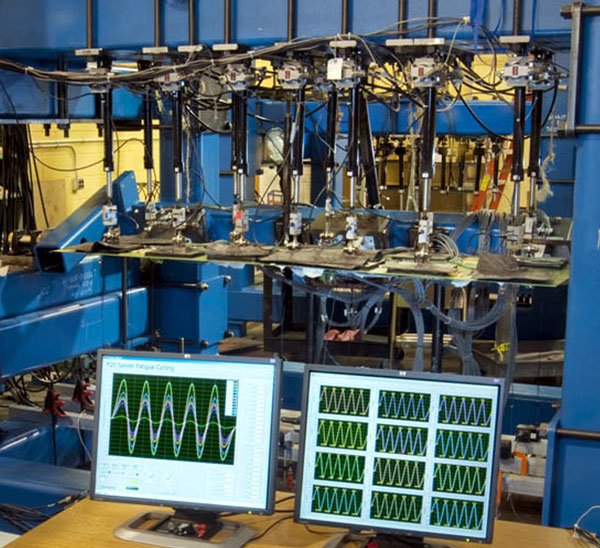 Instrumentation & Data Acquisition
DTB can acquire and record over 1,000 strain, deflection, or load measurements with our multiple MTS FlexDAC data acquisition units. High data sampling rates ensure the greatest fidelity.
DTB's team of skilled technicians has spent thousands of hours installing strain gages to exacting standards. In many structural tests, gages are not always located in easy-to-access areas on the test article. Our ability to install gages in hard-to-reach places and use tools, such as mirrors and scaffolding, to access inconvenient gage placements is part of what differentiates our team from the rest.
Once the gages are installed, our state-of-the-art data acquisition systems are set-up to control the loads and collect the data. Our engineers can quickly tailor software programs to meet customer requirements for data recording and the real-time display of data. This allows for almost instantaneous analysis of data and can help diagnose and correct problems as they arise.
Test Facilities
DTB can assist you in any phase of your structural test program with our world-class test facilities. Our latest addition is our new high-bay facility, which can test an entire aircraft for static strength and fatigue life.
DTB's high-bay test facility features 11,000 sq. ft. of testing area, a 40 ft. ceiling, and a Spantec perimeter crane system with two five-ton bridge cranes to assist with the movement of test items and fixturing. We also have over 100,000 sq. ft. of testing space in our main lab area, which can be configured for your structural testing needs.
We have reconfigurable large overload frames that can be used to quickly and efficiently structurally test your item. These frames have been used to test aircraft wing pods, truck suspensions, armament systems, and more. All jack and reaction locations are continuously adjustable.
DTB's powerful in-house hydraulic plant, coupled with our years of experience in building hydraulic pressure systems, provides us the capability to handle the most demanding hydraulic pressure tests.
For tests that require large flow rates, we have several 100 GPM pumps available. We have performed static pressure tests up to 30,000 PSI and have the ability to perform dynamic pressure tests up to 18,000 PSI.
The hydraulic fluids that we test with include MIL-H-83282, MIL-H-81722, MIL-H-5606, DTE 24, and a range of ROYCO fluids of various compositions. Pressure testing using Skydrol is also available.