DTB EMI/EMC TESTING SERVICES
Shielding Effectiveness Testing Services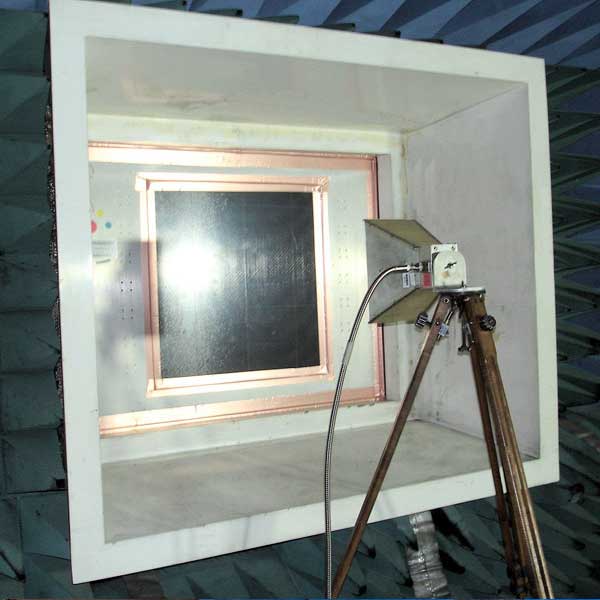 Shielding Effectiveness
DTB has over 50 years of shielding effectiveness experience from the 1960s-era aircraft harnesses through the latest in Ethernet CAT-7 cables and composite materials.
There are dozens of shielding effectiveness specifications for military and commercial markets, which are designed to provide a tool for quality control for specific materials. We have specialized in adapting these specifications to develop tests to evaluate shielding effectiveness in real-world conditions.
In conjunction with the US Navy, DTB has constructed one of the first large stirred mode chambers to test the shielding effectiveness of large armament systems.
Many of our customized test approaches have been incorporated into product development specifications or test specifications. We can test in accordance with IEEE 299, MIL-DTL-83528C, IEC 61726, ANSI/SCTE 48-1, and MIL-STD-285 and have performed shielding effectiveness testing on hundreds of items, including the following:
Rooms – shielded, unshielded
Cabinets – system racks, equipment enclosures
Panels – metal, composites, laminates, glass, fabric
Cables – power, RF, communications, Ethernet, etc.
Connectors
Gaskets
Special/Unique – aircraft fuselage, torpedo hull, aircraft engine cowling
New products or applications also undergo environmental and vibration evaluations in our lab. We have performed specialized tests, such as combined temperature/vibration tests to assess pin chatter in connectors, cold temperature bend radius for cables, or long-term corrosion tests on composite panels.